Downtown South Bend celebrates Chanukah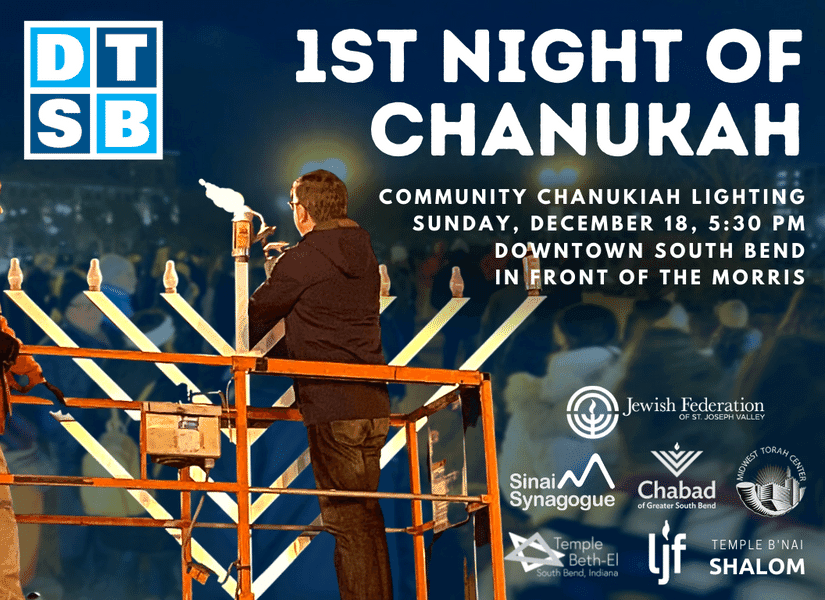 Live streaming on Facebook - https://www.facebook.com/thejewishfed
Celebrate the 1st night of Chanukah with the Jewish community in Downtown South Bend on Sunday, December 18th at 5:30 PM
Witness the lighting of the 1st night's candles on the giant chanukiah outside of the Morris Performing Arts Center displayed in the Jon Hunt Plaza.
With support from the Michiana region's Jewish congregations and organizations – Jewish Federation of St. Joseph Valley, Chabad of Greater South Bend, Liberal Jewish Fellowship, Midwest Torah Center, Sinai Synagogue, Temple Beth-El, & Temple B'nai Shalom.
Local rabbis and congregational leadership will offer words of reflection before the candle lighting begins.
City of South Bend Mayor James Mueller will receive the honor of lighting the shamash, the candle that sits in higher up in the middle of the chanukiah and is lit before the 1st night's candle.
Rabbi Schneur Gansburg of Chabad of Greater South Bend will receive the honor of lighting the 1st night's candle and leading the community in a Chanukah blessing.
After candle lighting, Rabbi Joshua Rubin will lead the community in singing traditional Chanukah songs.
Complementary *Kosher certified sufganiyot from Dunkin' Donuts in Skokie, IL, certified by cRc, while supplies last.