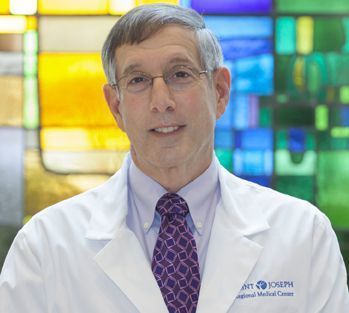 A Trubute to 
Dr. Bill Sarnat
For those who know Dr. Bill Sarnat, we know him to be a humble person and an excellent physician with a long career as a cardiologist in our local community. With the opportunity to interview Bill, I also learned about the many other contributions he has made to the health of our community, both through the practice of medicine and through medical education. 
While growing up in the largely Jewish neighborhood of South Shore on the south side of Chicago, Bill decided to go into medicine at a very early age. You could say that it was in the family. His grandfather owned a drugstore, his father was a dentist, and his uncle was a plastic surgeon. 
What attracted him to the field of cardiology? 
Bill attended medical school at Wayne State University. During one of his summer breaks, he did a clerkship at Cedars of Sinai in Los Angeles. It was during that summer that he observed cardiac catheterization procedures that peaked his interest in the field of cardiology. 
It was also while he was in medical school that he met his wife Diane on a double blind date. Diane and Bill have been happily married for 51 years. They have three children, Adena, Jeff and Lauren and three grandkids.  
Upon graduation from medical school, Bill did a residency in internal medicine at Michael Reese and a fellowship in cardiology at the University of Iowa where he said he "learned how to learn", something especially important in a field that is constantly evolving.  
Since Bill was in school during the Vietnam War era, he fulfilled his military obligation by serving two years in the Navy.  Between 1973-1975, Bill practiced general medicine at Patuxent River Naval Air Station in Maryland with the rank of Lt. Commander. 
In 1977, Bill and Diane moved to South Bend where Bill began practice at the South Bend Clinic. 
In 1982, Bill and his partner Doctor Paul Howard went to St. Joe Medical Center to direct the Coronary Care Unit. Thanks to their hard work, and with the invaluable support of Diane, they succeeded in building the cardiology group to twelve doctors with branches in Elkhart and Goshen. In 2015 Dr. Sarnat received the Blessed Basil Moreau Award for dedication to service and healing from St. Joseph Medical System.
Beyond his career as a physician, Bill has also dedicated his life to medical education. 
In 1982, Bill began teaching at IU Medical School in South Bend where he still teaches part-time to this day. In 1998, he had the honor of teaching his daughter Lauren, who was a student in one of the classes. For his excellence in teaching, he received the "Outstanding Physician of the Year Award" in 2019 from the IU School of Medicine. 
Dr. Mark Fox,  Associate Dean and Regional Campus Director, Indiana University School of Medicine – South Bend, wrote, "Dr. Sarnat was dedicated to providing the most robust patient experience for students and Family Medicine residents throughout his career and continued that work when the school expanded its South Bend campus to a four year curriculum."
As a mentor for interns and residents at St. Joe Medical Center, Bill has twice received the "Golden Apple Award" for being an outstanding educator.  
Always the perpetual student, Bill looks for ways to improve the field of cardiology. In 2013, Bill was reading about out-of-hospital survival rates for cardiac arrest victims. The national rate was only 5%.
Thanks to his efforts and persistence, Bill convinced the local EMS system to track local data on the issue. He was able to compare local data with national data. As he studied the issue locally, he learned that the local survival rate was about the same, 5%. Bill believed we could do better.
In 2016, Bill began to work with other local healthcare leaders and with a community organization called Enfocus to address the issue of out-of-hospital survival rates for cardiac arrest.  Working with the local EMS system, they developed an innovative idea to train local 8th graders in CPR and the use of defibrillators.    
What began as an idea turned into a major community-wide project. 
The project brought 1,200 to 1,800 eighth grade students to the Covaleski stadium for a massive CPR training effort. They also raised money locally to buy mannequins for the students to take home to practice on and teach family members. 
Bill believes that there has been a ripple effect from this educational project. Today our local survival rate for out-of-hospital cardiac arrest has increased from 5% to 11%.
For his efforts on this project, Bill received the Key to the City of South Bend from Mayor Buttigieg in 2020. However, Bill emphasizes that this project was a team effort with many people who are equally deserving of recognition. 
Never one to turn down an opportunity to help out, Bill also has been a dedicated volunteer, administering the COVID-19 vaccine at the St. Joseph County Department of Health's vaccine clinic at St. Hedwig Memorial Center.
Looking back on his career, in addition to the CPR training program for 8th graders, the things that Bill is most proud of are the many students he trained- including his daughter - and physicians who are now taking care of him. "The legacy is to make sure that what you leave behind is better than what you came in."
There is no doubt that our community is a better place for having Dr. Bill Sarnat here as an outstanding physician and educator.  
Sign up for our Newsletter