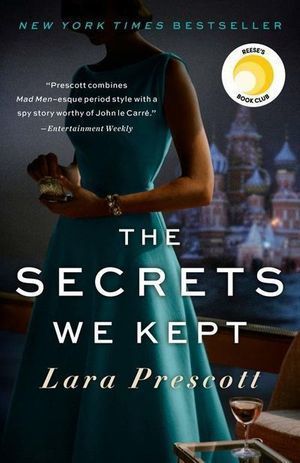 Federation Book Club
A Penguin Random House discussion sheet on The Secrets We Kept states, in part, that "The chapters narrated by the typists form a kind of Greek chorus, . . ., anchoring the book in their shared experience—a collective point of view, . . . " * Author Lara Prescott gives a cohesive chronology of events as seen not only by these typists—an elite group hired to keep the secrets of the content which they type—but also from three main female characters who, whether being mysterious, admired, neglected, or ridiculed, are always the subjects of gossip. Prescott shows us how and why women in the 1950s made some of the greatest spies. 
We also see ways in which these women were both powerful and powerless, either taking the reigns for themselves, or taking prison terms in the Russian Gulag in defense of a non-deserving lover. We had a lively discussion about the plausibility of why these women made certain choices, or lack thereof.
If you've read and loved Doctor Zhivago, you'll also enjoy this behind-the-scenes fictitious thriller. You'll see an interpretation of how, rejected by the Soviets, Zhivago first got published in Italy. There are two crucial love stories in The Secrets We Kept, but perhaps the best scene takes place when the novel culminates at the 1958 World's Fair held in Brussels, when the manuscript of Doctor Zhivago was, in real life, smuggled into America for the CIA's Cold War propaganda purposes. 
Suggested Further Reading on Topic:
Doctor Zhivago
By Boris Pasternak
Lara: The Untold Love Story and the Inspiration for Doctor Zhivago
By Anna Pasternak
The Federation Book Club meets via Zoom at 4 PM for an hour or more on the first Thursdays of the month. We choose books of either global or page-turning interest, and do not meet for the purpose of promoting our businesses, or those of our friends. Click below to join our book club!
Join Our Bookclub
Sign up for our Newsletter