Kitchen greetings, dear readers.  I have found a wonderful recipe that I am excited to share with you, today.  Muhammara!  Muhammara is popular and much-loved dish across the Middle East.  As is the case with recipes of this type, many regions claim it as their own, and there exist almost as many variations of the recipe as there are people who prepare it.
I have crossed paths with this recipe several times over the years, but it wasn't until I saw it in Sumac, Recipes and Stories from Syria, by Anas Atassi, that I became inspired enough to try it.  In the author's notes, Atassi describes his love for muhammara (pronounced with an assertive, guttural "h" and distinct pronunciations of the 3 "a's) as all-encompassing and lets us in on his secret to making a truly spectacular muhammara.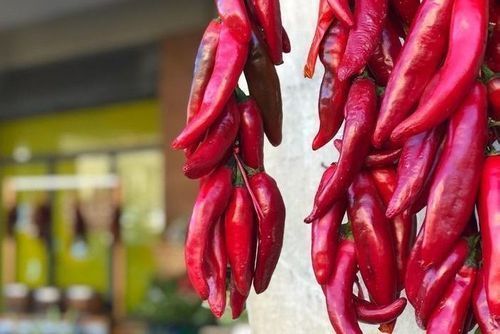 It's the red pepper paste, according to Atassi, made with slow-roasted fresh and dried red peppers that concentrate the pepper's flavors to Mediterranean umami perfection.  However, if you are unable to find this very flavorful-but-not-spicy red pepper paste, do not despair--a good quality tomato paste will achieve a very close approximation.  Atassi also suggests mixing muhammara and hummus together…something I would not have thought to do on my own—but am now thinking I might give a try!
While the muhammara recipe, itself, looked wonderful, it was the photograph that really captured my interest.  Vibrant color, gorgeous texture, a simplistic elegance of a dish that visually beckons with the promise of flavor and a gathering of friends around a sharing table.  
This recipe is an unexpectedly delicious find. And beautiful. It works as part of a mezze, as a dip on its own with breads, crackers, and vegetables, or as a pesto or condiment for grilled fish or meats. It is a perfect addition to a luxe little picnic and makes a lovely hostess gift when packaged in an attractive glass jar.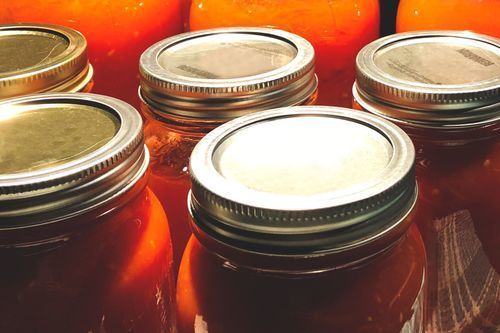 One final note…when trying a recipe that is unfamiliar, I often seek other examples to learn how similar (or different) the chef's interpretations are.  I did that here, finding examples from chefs I know, and ones I do not, and in doing so, wound up cobbling together an entirely new variation that includes all the things I "found" along the way that I thought would make this dish "sing" for me.  These "additions" appear in one of two ways.  You will see them listed (in parentheses) or listed as "optional."  If you disregard all those, what you will have is the original recipe as it appears in the book. 
Well, dear readers, this concludes another delectable entry in our community cooking journal.  If you have recipes you would like to talk about and share, we would love to help make that happen.  As you know, we are always interested in hearing about your cooking stories and adventures, here at Our Community Table.
INGREDIENTS
5 ½ oz roasted red peppers from a jar, rinsed and patted dry or (3 large, red bell peppers, roasted, seeded, and peeled)
1 teaspoon Turkish red pepper paste or (tomato paste)
1 hot red chili pepper or (1 Tablespoon dried Aleppo chili flakes)
2/3 cup toasted walnut pieces
1/2 cup fresh breadcrumbs
(1 small clove of garlic, peeled and crushed)
2 Tablespoons olive oil
1 Tablespoon pomegranate molasses
Juice of 1/2 lemon
Salt to taste (I used ½ teaspoon sea salt)
1 ½ teaspoons cumin (optional)
 
Instructions
Place all ingredients together in a food processor.  Blend until well combined but do not make this too smooth.  This dip should be somewhat smooth and thick but should still retain a little bit of texture from the walnuts.
Once blended, taste and adjust flavors to your liking.  
Refrigerate until ready to use
To serve, bring to room temperature and place in a shallow bowl or onto a plate or small platter. Garnish with additional olive oil, pomegranate molasses, chopped parsley and a few additional walnut pieces.  
Can be served with pita or other breads and crackers as well as vegetable crudités.  Can also be used as a condiment alongside grilled fish or meats/kabobs.
 
Cristyne Porile
Community Contributor
Sign up for our Newsletter