I have found a perfect summertime recipe for us today.  It comes from our community member and good friend, Rabbi Shoshana Feferman. The recipe is originally from the seminal Israeli cookbook, Mehamitbakh Be'ahava…which translates to English as "From the Kitchen with Love," written by the popular Israeli cookbook author, Ruth Sirkis. This book has been referred to as 'the Tanach of Israeli cooking' and holds some of Shoshana's favorite recipes within its pages.  If this recipe is any indication…I can only imagine how wonderful the rest of this book must be.
If I had to describe this recipe, which in the book is named Chatzilim b'Tachmitz, or "Eggplant in a Vinegar Marinade", I would say it is exactly that. That, and so much more.  The eggplant, redolent with undertones of garlic and pimiento, becomes silky smooth after its gentle olive oil sauté, and then is ever so lightly "pickled" by the vinegar. The gorgeous melding of Mediterranean flavors and its luxurious texture is just luscious. Served at room temperature (or slightly warmer when eaten in the sun!), it is sun-drenched cuisine at its best. Shoshana likes to serve it with pita bread, pita or bagel chips, or even, all by itself.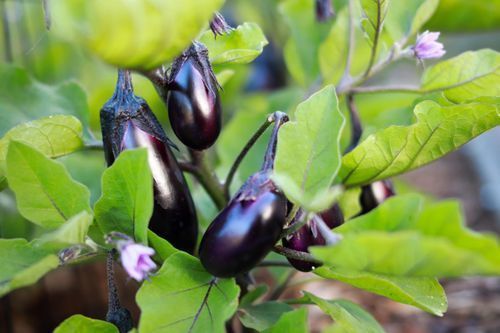 I made this recipe myself for the first time, last week.  I am going to suggest that waiting the full 24 hours for the marinade to work its magic (or even better, 36 hours) is highly recommended. The extra time really enhances the flavor profile and the eggplant's texture.  
I also suggest sticking to the recommended amounts of garlic…though I have often found that more is better in certain recipes, this is not one of them… 4 cloves are PLENTY!! If you are lucky enough to find yourself with some left over, I have discovered that this "marinated eggplant" can live many delicious lives.  It is great cold, straight from the refrigerator, and also, chopped or lightly processed in a food processor to be used as a spread or dip of sorts.  But perhaps my favorite re-incarnation is as part of a sandwich I created in the style of the Pan Bagnat.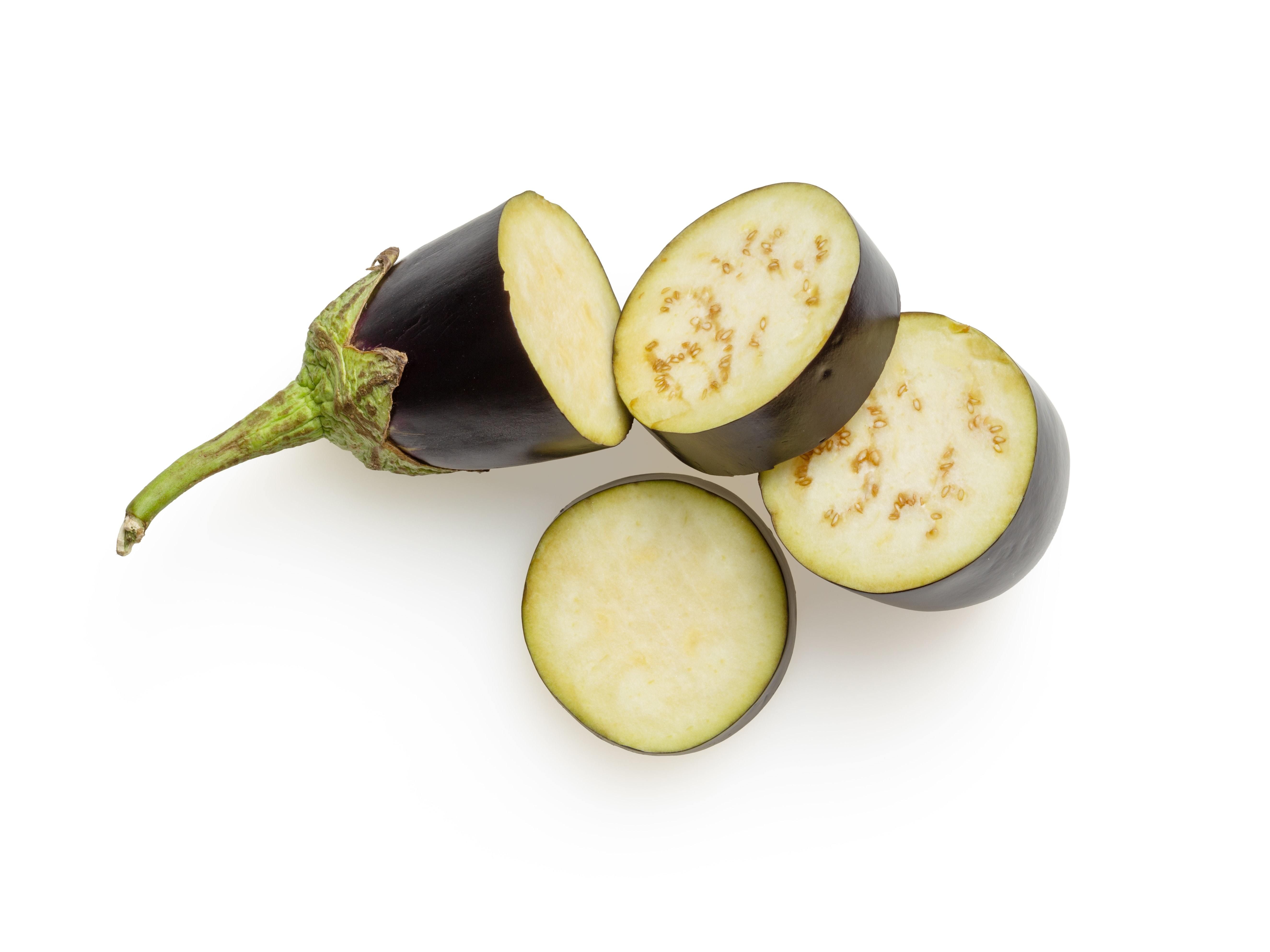 If you have ever had one of Southern France's delicious, cold pressed beach and picnic sandwiches, the Pan Bagnat, then it won't be much of a leap to consider this as its long lost "Israeli cousin."  Fill a baguette or a pita with a shmear of harissa, a healthy slathering of hummus on both the top and bottom, a few thinly sliced, baked chicken pieces, several strips of roasted red bell pepper and a generous layer or two of the marinated eggplant.  Close and tightly wrap the sandwich in either parchment paper, plastic wrap, or foil, then cold press, Pan Bagnat style, for 20 minutes or so on your kitchen counter, under a sturdy cutting board, a cast iron skillet, and any other heavy objects you have around. Before wrapping and pressing, you can add other things you love to the sandwich as well—sliced olives, slices of hardboiled egg, it's really up to you! Just make sure you can close it!!
The Marinated Eggplant I made was incredibly delicious.  And beautiful. But it was not quite as good as Shoshana's. I guess I'm just going to have to make it again…hopefully, with you, here, at our community table!
INGREDIENTS
2 medium-large eggplants 
2 teaspoons (or so) salt to release the eggplant's bitter juices
Olive oil for frying 
4 cloves of garlic, minced 
1/2 bunch Italian flat-leaf parsley, chopped, or 2-3 Tablespoons dried parsley flakes
1 (4-ounce) jar chopped pimento 
1/2 cup citrus vinegar (or white wine vinegar)
1/2 cup water 
1 teaspoon sea salt 
1/2 teaspoon freshly ground black pepper 
 1/4 teaspoon dried red chili pepper flakes
Instructions
Wash and dry eggplant and slice into scant ½-inch rounds*. Place into a colander and sprinkle with salt. Let stand in a colander, allowing juices to be extracted by the salt for approximately 30 minutes to remove any bitter flavors. 
Rinse the eggplant rounds to remove salt then pat dry. 
Cover the bottom of a large sauté pan generously with olive oil and heat over a medium setting to warm.  Reduce the heat slightly, and working in batches, gently fry the eggplant until soft, approximately 5 minutes per side, over a low-medium heat, adding additional olive oil as necessary to prevent sticking. Remove to a side platter until all have been sautéed.
Alternatively, you can brush or spray the eggplant slices generously with olive oil and bake in a 350 degrees Fahrenheit oven until slightly browned instead of sautéing.  
Place the water and the vinegar into a small saucepan and bring to a simmer. Remove from the heat and add the salt, ground pepper, and the chili pepper flakes. Stir to dissolve salt and proceed with the layering process while vinegar-water marinade is still hot-warm.
In a glass tray, or whatever non-reactive serving dish you will be using, place a single layer of the sautéed eggplant. Gently spoon some of the warm vinegar marinade over the slices so each piece has some on top, but not so generously as to pool or drown the pieces.  Next, sprinkle with some of the minced garlic, the pimento-using a fork to remove the pieces from the jar, no need to separately drain or rinse, placing a few pieces onto each eggplant slice, and finishing with a sprinkling of the chopped (or dried) parsley over the garlic and the pimento.  Repeat the layering process in the same order-- eggplant, vinegar marinade, garlic, pimento, and parsley, continuing until all the eggplant has been used.  You may or may not use all of the layering ingredients—and that is ok.  This will be decided by amount of eggplant and the size of your serving dish.  Do not dump all remaining vinegar into the dish just because you have some left—use only what you need for the amount of eggplant you have following the layering process.
Cover tightly with plastic wrap and place in the refrigerator overnight (12-24 hours), basting 3-4 times with the juices that accumulate at the bottom to allow flavors to properly develop.  24 hours is best.
Serve at room temperature as an appetizer or as part of a larger mezze selection.  
*Note: While the original recipe calls for ½-inch eggplant slices, Shoshana slices hers much thinner—1/4-inch or even slightly less.  The thinner slices create a more luxurious, melt-in-your-mouth texture.  But either way, this recipe is delicious.  Also, "citrus vinegar" is particular type they have in Israel, but I'm not sure it is available in the US, so regular white wine vinegar is fine
 
Cristyne Porile
Community Contributor
Sign up for our Newsletter