Transitioning into the roll of Program Director has unlocked a world of possibilities as focus changes from our children to the entire Jewish Federation community. With so many programs in the works, including continued Shi'shuk market days, a Yiddish Film night, and an entire Fall Festival, it was hard to choose just one topic to speak about this month.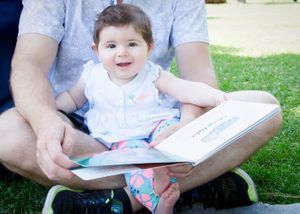 I decided to speak to you about a program that has been running long before I came onto the scene, our PJ Library. You may already be privy to the project, but did you know that over 100 children in our community are receiving free Jewish themed books every month? This is not including the dozens more between the ages of 9 and 11 that are part of the PJ Our Way program that provide nearing bar/bat mitzvah kids a choice in book each month as they explore their own Jewish identity.
PJ Library is funded by both the Harold Grinspoon Foundation and donations made to the Federation. This year, thanks to grant the Federation received from the Harold Grinspoon Foundation, we were able to increase our participant group, providing free Jewish books to children in our community who may have no other access to Jewish history and culture. In the coming years be on a lookout for a community PJ Library fundraiser.
Visit TheJewishFed.org/PJLibrary and learn more about the program and see if your children are eligible. Do your grandchildren visit and want to hear a new story before bed? There is even a grandparent PJ Library program completely free of charge. We will soon begin with PJ library events such as book readings and meet the Author programs at the Federation which will be open to all children where books will be available for trade and purchase.

Finally, next time you visit the Federation check out the book cart where you can find a large collection of books available for you and your family to take home. A donation box will be nearby for you to donate what you see fit toward future PJ Library subscribers. Are your kids too old? Maybe PJ Our Way better suits you.
As always, my door is always open. Feel free to stop by or call to speak to Shirlee or me about programs throughout the year, or that you would like to see run in the future!