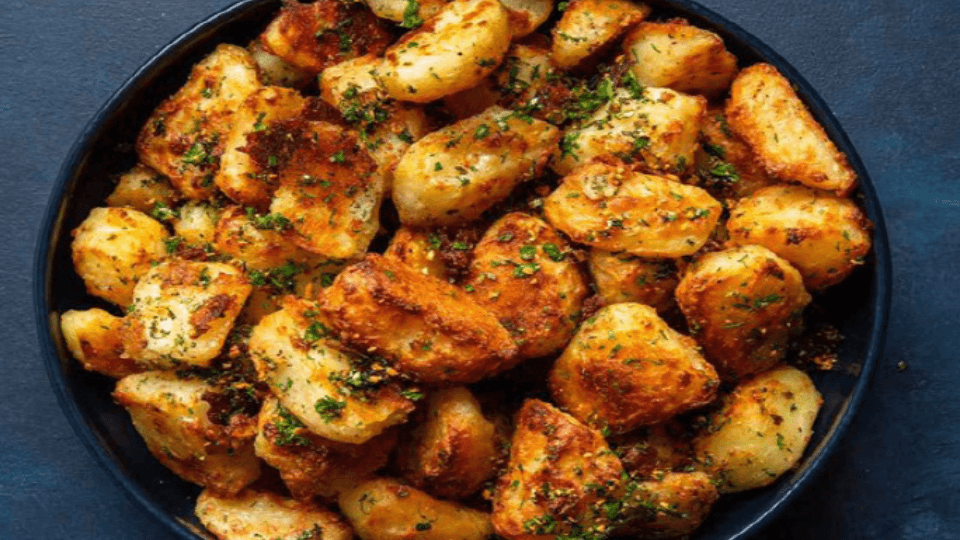 Springtime greetings, OCN readers. Have your wands at the ready, for what I bring to share with you today is pure magic…kitchen magic! In truth, it's basic chemistry…but why let all those dull dreary details get in our way?
Now, I haven't made industrial size quantities of oven roasted potatoes for a very long time, so when I considered making them this year, as a side for a Passover buffet, I wanted to do a little research to make sure I still remembered how to successfully bring them from oven to table in a way that would make my family's and friend's eyes pop open… in a good way! Kenji Lopez Alt, author of several excellent cookbooks, used to be a frequent contributor to the Serious Eats food blog. I always enjoy reading Kenji's articles, and it was in one of these that I found what I was looking for. A trick that led to the best oven-roasted potatoes I've ever made. It seems that adding a little baking soda to the water before boiling the potatoes makes a significant difference in the crispy texture of the finished product. How I'd not heard of this before… I've no idea, but the result of this simple addition was deliciously (and audibly) significant.
Alas, the dull, dreary, chemistry side of this is that the baking soda causes the water to become more alkaline, helping the exteriors of the potato break down a little bit faster than the interiors can cook and creating a sort of starchy slurry that contributes to creating that extra-crisp exterior. Ho-Hum, so basic! But the magical side is that during the cooking process, the potatoes, with their newly alkaline induced durable, craggy, rough exteriors, crisped magnificently and were visibly different and so much better than any potato I had roasted before.
Cristyne Porile
Community Contributor
INGREDIENTS
Kosher salt
1/2 teaspoon (4g) baking soda (per 8 cups water)
4 pounds (about 2 kg) russet or Yukon Gold potatoes, peeled and cut into large chunks
5 tablespoons (75ml) extra-virgin olive oil, or duck fat if you like
Small handful picked fresh rosemary leaves, finely chopped (optional)
3 medium cloves garlic, minced (optional)
Freshly ground black pepper
Small handful fresh parsley leaves, minced (optional)
INSTRUCTIONS Serves: 4 - 6
Adjust oven rack to center position and preheat oven to 450°F (or 400°F if using convection).
Heat 2 quarts (8 cups) water in a large pot over high heat until boiling. Add 2 tablespoons kosher salt, ½ teaspoon of baking soda, and the potatoes. Stir to blend in the baking soda and return to a boil. Reduce to a simmer and cook until a knife meets little resistance when inserted into a potato chunk, about 8-10 minutes after returning to a boil.
Meanwhile, if you decide to go all out and add flavor, combine the olive oil (or duck fat) with the optional rosemary, garlic, and a few grinds of black pepper in a small saucepan and heat over medium heat. Cook, stirring and shaking pan constantly, until garlic just begins to turn golden, about 3 minutes. Immediately strain oil through a fine-mesh strainer set in a large bowl, reserving the oil. Set strained garlic/rosemary mixture and flavored oil aside and reserve separately. If you don't want to do this, just skip this section, and add plain olive oil or duck fat and a bit of black pepper to the potatoes before roasting.
When potatoes are cooked, drain, and let them rest in the pot for about 30 seconds to allow excess moisture to evaporate. Transfer to bowl with infused oil, (or plain oil), season to taste with a little more salt and pepper, and toss to coat, shaking bowl roughly, until a thick layer of mashed potato–like paste has built up on the potato chunks.
Transfer potatoes to a large, rimmed baking sheet spreading them out evenly. Place into oven and roast, without moving, for 20 minutes. Using a thin, flexible metal spatula to release any stuck potatoes, shake pan and turn potatoes. Continue roasting until potatoes are deep brown and crisp all over, turning and shaking them a few times during cooking, 30 to 40 minutes longer.
If you have made the garlic and rosemary version, transfer potatoes to a large bowl and add garlic/rosemary mixture along with the minced parsley. Toss to coat and season with additional salt and pepper to taste.
So, there you have it, dear readers. A portal to producing the crispy, oven roasted potatoes of your dreams. You may even wish to theatrically offer a few magic words as you sprinkle the baking soda into your brew…you know, to impress the kids… but it really isn't necessary!