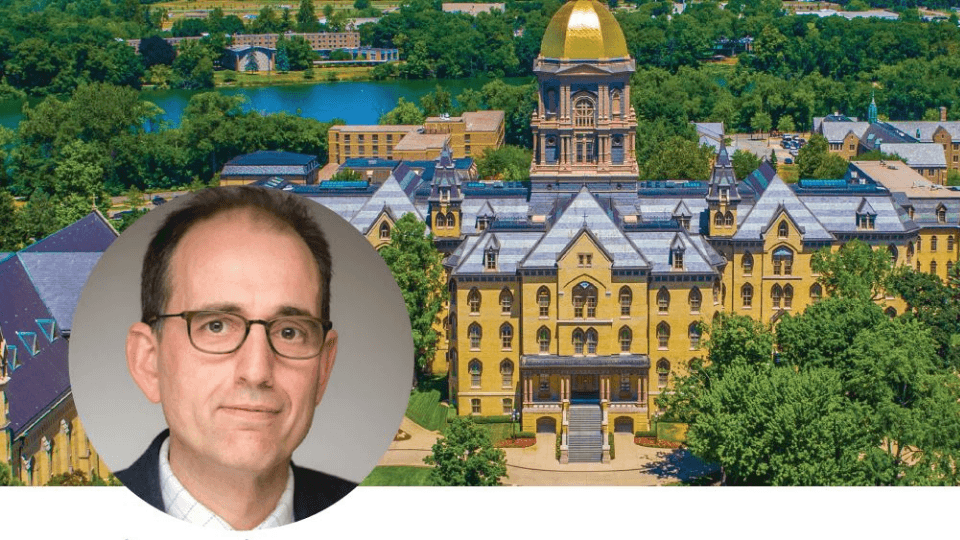 An Interview with Professor Abraham Winitzer
Living next to the University of Notre Dame, we often take for granted the many amazing academic resources it provides, not only for its students, but for the wider Michiana community. Yet, how many of us knew that amongst the faculty of this very Catholic academic institution are not one or two, but three professors offering courses in Jewish studies in the Department of Theology?
Many of us have fond memories of the late Rabbi Michael Signer (Z"L) who served as Professor of Jewish Thought and Culture at Notre Dame from 1992 until 2009. Thanks to Rabbi Signer's important legacy, Jewish Studies continues to flourish at Notre Dame.
That's why it was my pleasure to have an eye-opening conversation with Dr. Abraham Winizter, Jordan H. Kapson Associate Professor of Jewish Studies at the University of Notre Dame. He is a member of the Department of Theology.
Professor Winitzer, or Avi as he likes to be called, specializes in ancient Near Eastern languages (primarily Akkadian, Aramaic, and Hebrew). According to the biography on his webpage, "…his interests deal broadly with the cultural and intellectual history of the ancient Near East, and the place of these branches of history in the literature from this region."
Born and raised in Haifa, Israel, Winitzer came to America as a teenager. He completed his B.A. and two Masters Degrees at Brandeis University and then went on to Harvard where he completed another MA and a Ph.D. in Near Eastern Languages and Civilizations, in Assyriology, or the study of Ancient Mesopotamia.
At Notre Dame, Professor Winitzer teaches courses at the undergraduate level, including an Introduction to Biblical Hebrew and advanced classes including Modern Academic Hebrew.
At the graduate level, Winitzer teaches a Hebrew Bible Seminar and courses on Myth and Mythology, and Science and Philosophy in the Ancient Near East, the Intellectual History of the Ancient Near East and the History of Science and Philosophy in the Ancient Near East.
His Jewish Studies colleagues in the Department of Theology are Professor Jeremy Brown and Professor Tzvi Novick. Winitzer says of Brown and Novick, "They are two of the best in the nation in their respective fields."
Novick specializes in the Second Temple and Rabbinic Judaism. Brown focuses on Medieval Judaism, Kabbalah and Maimonides.
As a member of the Faculty of Theology at Notre Dame, Winitzer explained that although there are three professors who are considered to be part of the Jewish studies course offerings of the Department of Theology, Notre Dame does not offer a separate major or minor degree in Jewish Studies.
Nevertheless, the course offerings of the three professors certainly provide both undergrad and graduate students with important intellectual background that promotes understanding of Judaism and helps them to understand the connections between Christianity and Judaism.
The Jewish Studies course offerings are credit to the character of the University of Notre Dame. While it is certainly a very Catholic university, Notre Dame also promotes understanding of other religions, especially Judaism. As Professor Winitzer said, "He feels incredibly welcome at Notre Dame".
In the future, our Federation looks forward to providing our Michiana Jewish community with opportunities to learn from these three eminent scholars.
Bob Feferman
Community Relations Director
574-233-1164 x1815
RFeferman@TheJewishFed.org