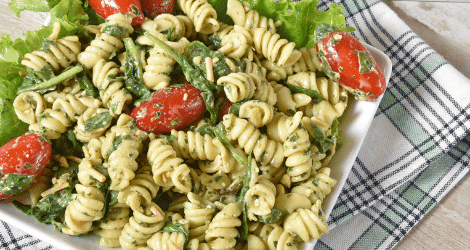 There's a saying "If at first you don't succeed, try, try again." That saying was first said in the mid-1800s. This quote really applies to the recipe that I am sharing with you this month. The first two times I attempted to make the recipe I did not succeed in following the directions. Funny thing is, though, we really liked the recipe despite my errors.
What originally attracted me about the recipe is that the pasta cooks in the sauce. You don't have to boil the pasta in a separate pot and then drain it. This is an all-in-one sort of recipe.
The first time I made it I forgot to add the shredded mozzarella at the end. And we still loved it.
The second time I attempted to make the recipe, I did not forget the cheese. But, I made a different mistake. I had gone to run an errand that took longer than anticipated. Knowing that I was making pasta for supper, as soon as I got home I put up water to boil. I then proceeded to boil and drain the pasta. Only when I started to make the sauce did I realize my mistake. I had to reduce the amount of milk and water and play around a lot to get the right texture of everything. Lesson learned.
They say the third time's a charm. They've actually been saying that since the early 1800s. The third time I prepared the recipe I was successful. I didn't forget anything accidentally. I did choose to make some changes based on what I had on hand and personal preference. All those changes are in the notes that follow the recipe.
INGREDIENTS
From the recipe files of Dena Gewirtz
1 stick (8 Tbsp.) butter, divided use 1 onion, diced 3 cloves garlic, minced 1 Tbsp. Kosher salt, divided 1/2 tsp. pepper 2 lb. frozen chopped spinach, defrosted and drained 4 c. milk 1 1/2 c. water 1 lb. pasta, such as rotini or any tube shape 2 c. shredded mozzarella cheese blistered cherry or grape tomatoes, optional
INSTRUCTIONS
Melt four tablespoons of butter in a large pot over medium heat. Add the onion, garlic, half of the salt, and pepper. Sauté, stirring occasionally, for five to seven minutes. Stir in the spinach and remaining butter and cook for eight to ten minutes. Add the milk, water, and remaining salt. Bring to a boil. Stir in the pasta and cook for ten to twelve minutes until the pasta is cooked. Stir in the cheese and cook until the cheese is melted,
If desired, serve with blistered tomatoes on top. To blister tomatoes, toss one cup of cherry or grape tomatoes with one tablespoon of oil. Broil for five to eight minutes until they start to blacken.
Notes:
I use four tablespoons of butter for sautéing but do not add more butter with the spinach.
I omit the onion totally and use additional garlic. We really like garlic. If you don't like garlic, you can use only onion.
When I first made this recipe I didn't have frozen spinach, but I did have a can of spinach in the pantry. I drained it well and used it and it worked for us quite well.
Since we liked the pasta so much when I forgot to add the mozzarella cheese, I decided that I could reduce the amount to one cup.
Deena Abraham
Community Contributor