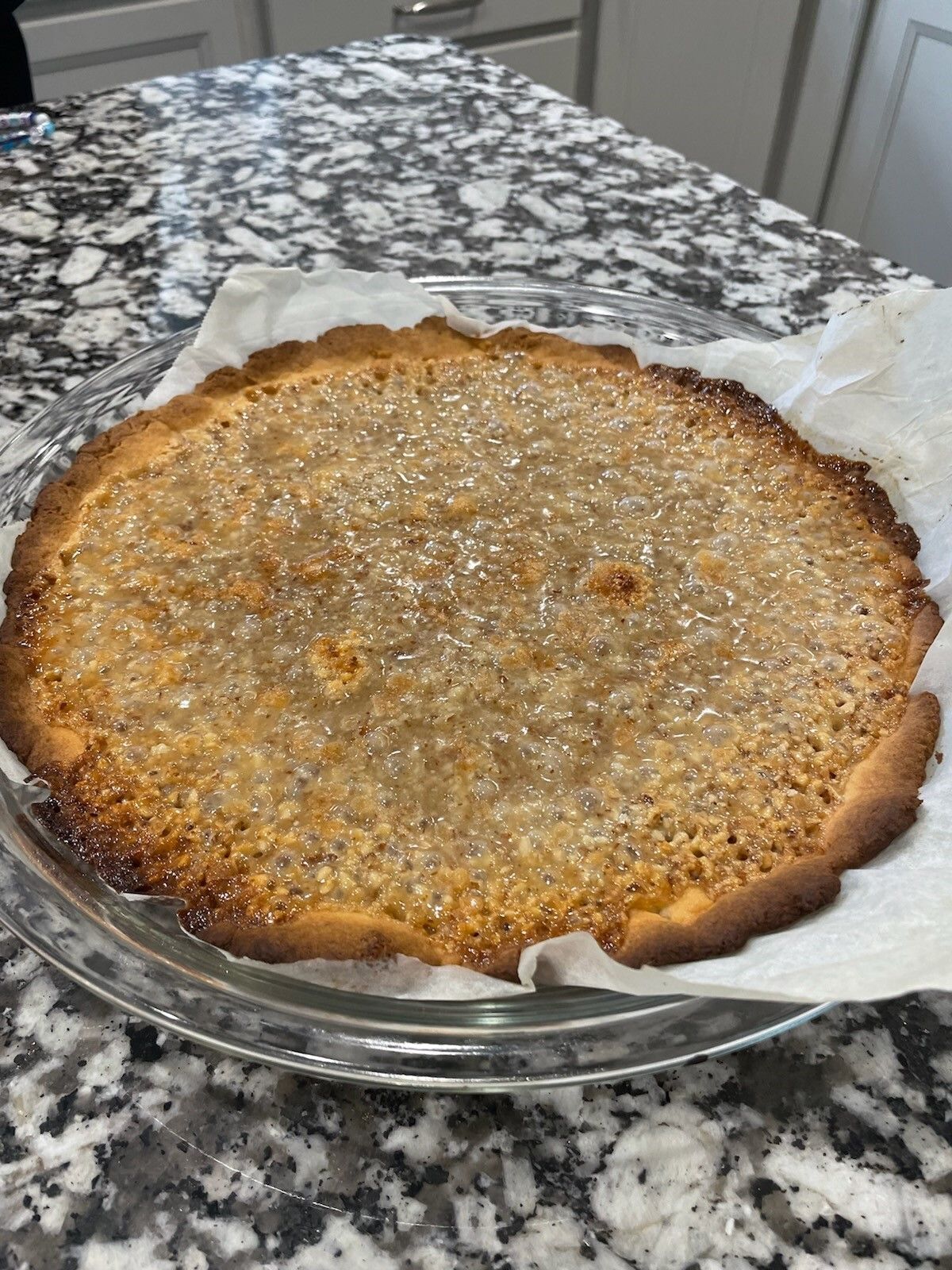 I just love when someone shares a family Heritage Recipe with me. There is something very special about making a recipe that has deep personal value and rich history attached to it, especially when you know the people involved. With permission, I am going to share one such recipe with you today, gifted to us by the Shemesh Family.
I first tried this dessert at a Federation Board meeting at the home of our JFed President, Alon Shemesh. In this President's house, Federation business is most definitely a family affair. As we all sat at the umbrella covered table near the beautiful garden, dishes began appearing…because you must feed the family! Alon's daughter, Emily, had baked tender, buttery shortbread cookies. Debby had prepared a Boston Crème Pie—and another, most wonderful offering, Alon's mother, Tikva's (of blessed memory) almond cake.
Tikva's almond cake, we learned, is Alon's favorite, and after a bite or two, we could all see why. The filling is what really makes this special. Finely ground almonds, butter, sugar, and an ingredient I had not used before—commercial packets of pre-blended vanilla-sugar, smoothed out with a bit of milk, then baked to a golden perfection. Its flavor is reminiscent of dulce-de-leche— with just a hint of that elusive "professional bakery flavor" that one never quite seems to be able to recreate at home—it must be the vanilla-sugar. I wondered if they would be willing to share this family recipe with me, because people don't always give their personal recipes out. Fortunately for all of us, Alon and Debbie were happy to.
Now that I had this amazing recipe in my hot little hands, I became obsessed. Obsessed with getting it right—just right—better than right—perfect. Because it's a Heritage Recipe. But, I had absolutely no idea what I was doing. I had only had the cake, which is really more like a pie—but not quite—one time. So, I texted Debbie. And texted Debbie. And texted Debbie! Yep. As a thank you, Debbie, for sharing this wonderful recipe with me, I shall now make you regret that decision by sending rapid-fire texts (and photos) with all my questions!
But not for long, for now, I'm in my car driving my almond cake over to Debbie to have her take a look. She greeted me warmly and showed me into her kitchen where she (and all at the house that day) politely tried my version of the almond cake. Seeing that I was still not completely confident, she asked if it would be helpful for me to watch her make the cake, and she then proceeded, in a very organized way, to demonstrate the recipe—from start to finish—just like that. She had a disc of dough in her freezer—of course she did—which defrosted in minutes, and with a pulse or two of the food-processor and a whisking on the stovetop, the cake was ready for the oven. It was during the baking that we (along with Emily & Ari) hatched the idea of changing the ingredients…what would you think of using hazelnuts instead of almonds with some cocoa in the crust? Or finely ground peanuts instead of almonds with a milk chocolate drizzle? Tikva's almond cake began to transform into the little black dress of semi-casual desserts! Of course, I tried them all! But in the end, while each version was delicious, the best version was still the original—almonds, sugar, butter, vanilla—but still, something magical must go on while it's baking to create this very special flavor. I think it must be the love.
Cristyne Porile
Community Contributor
INGREDIENTS FOR CAKE DOUGH
Makes 3 Cakes1 cup granulated sugar200 grams salted margarine (or salted butter)450 grams self-rising flour1 large egg, at room temperature1 ½ Tablespoons sour cream
INSTRUCTIONS
In a stand mixer, cream the sugar and the butter until light and fluffy, about 5-7 minutes on a medium speed, stopping every now and then to scrape the sides of the bowl and the beater blade. Add the egg and fully incorporate into the batter. Add the sour cream and beat to blend then add the flour, all at once, and pulse the mixer until just incorporated (or fold in manually with a spatula).
Divide batter into 3 equal portions, flatten into a disc shape and wrap each one separately in plastic wrap.
Chill in refrigerator for at least 2 hours to rest or into freezer to freeze and use at another time. If freezing, put dough in the refrigerator overnight to defrost gently and completely.
INGREDIENTS FOR ALMOND MIX
1 cup granulated sugar2 (8-9 gram) packages vanilla sugar 100 grams unsalted butter at room temperature5 Tablespoons milk150 grams almonds, toasting optional, very finely ground
INSTRUCTIONS
Preheat the oven to 375°Fahrenheit (190°C)Remove one of the prepared cake batter/doughs from the refrigerator and roll evenly on a large piece of parchment paper, as you would a pie crust, until just large enough to cover the bottom and come up the sides of a standard size pie plate. Invert the rolled dough onto the pie plate and gently remove the parchment paper. Using a fork, poke holes at varying intervals across the bottom of the dough. *Debbie places a piece of parchment paper just slightly larger than the pan inside the pan before putting the dough in. In her experience, it is the way to truly prevent the crust from sticking. I used a durable non-stick pie plate and did not have a problem with sticking—but if you are unsure of your bakeware, use Debbie's method.
In a medium sized saucepan place 1 cup sugar, the vanilla sugar, the unsalted butter, and the milk. Bring to a boil over a medium heat, stirring frequently, until the sugar is completely dissolved. Add the finely ground almonds and continue to cook until the mixture begins to bubble. Remove from heat.
Pour the almond mixture on top of the dough as neatly and evenly as you can.
Bake for 25-30 minutes watching carefully. It is better to bake this slightly less rather than more as it can become hard if overbaked. It will not be completely set (firm) when you remove it from the oven. This is ok. It will firm up as it cools, the cooled consistency being similar to that of a pecan pie.