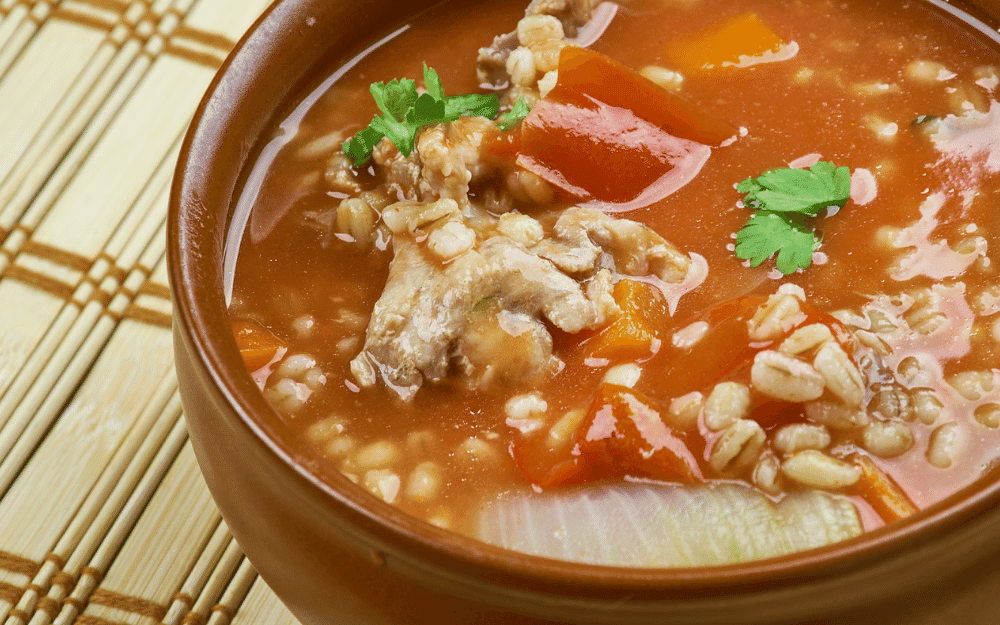 Like it or not, we are getting closer to the cold winter weather. One of the best things about winter is a snowy day when you don't have to go any­where and can look out the window at big snowflakes falling. That scenario is even better if you are drinking a hot beverage or eating soup. And, if you have a fireplace it should definitely be in use. The scene I just described is one of my favorite parts of winter. (Driving on icy roads is my least favorite part, but let's not go there.)
Hot soup is something I make all year round. Even in the summer, we enjoy soup on a regular basis. But during the winter we really enjoy the nourishing qualities of a good bowl of hot soup. I've found that many children enjoy soup and will eat it even if it contains (unbeknownst to them) vegetables that they would not touch in any recognizable form. I was never one to sneak spinach into brownies to get my children to eat their vegetables. Why taint a chocolate dessert when soup would do the trick? (Anyway, my kids always liked spinach. That's not to say that they enjoyed every vegetable. But spinach was never an issue.)
The soup recipe that I am sharing with you this month is hearty but not too heavy. If you like a brothy soup, you can reduce the amount of barley in the recipe. Personally, I've always liked bar­ley in soup. One of the main changes that I made in the original recipe upon which this is based is increasing the amount of barley.
The liquid used in this soup is water. If you usually use broth, I would consider using part broth and part water. I like the low sodium vegetable broth sold at Trader Joe's. One container has four cups of broth. When making a soup like the one below, you may use four cups of broth and six cups of water for some additional flavor.
Deena Abraham
Community Contributor
---
INGREDIENTS
oil, for browning the meat
1 lb. stew meat, cut in small pieces
1 Tbsp. kosher salt, divided
½ tsp. pepper, divided
1 med. onion, chopped
4 cloves garlic, minced
4 Tbsp. tomato paste
4 carrots, diced
2 stalks celery, diced
1 small parsnip, diced
½ tsp. thyme
1 bay leaf
10 c. water
¾ - 1 c. barley
INSTRUCTIONS
Pour oil in a pot to just cover the bot­tom. Heat until the oil is hot. Put the meat in the pot with half of the salt and pepper. Brown the meat in oil until it is no longer pink on any side. This should take a few minutes per side. If the pan is dry, stir in a little bit more oil. Stir in the onion and cook for five minutes. Stir in the garlic and cook for one minute. Add all remaining ingredients and bring to a boil. Lower the heat and simmer covered for 1 – 1 ½ hours. Remove the bay leaf before serving.