Let It Go - The Emotion Code & Stress Management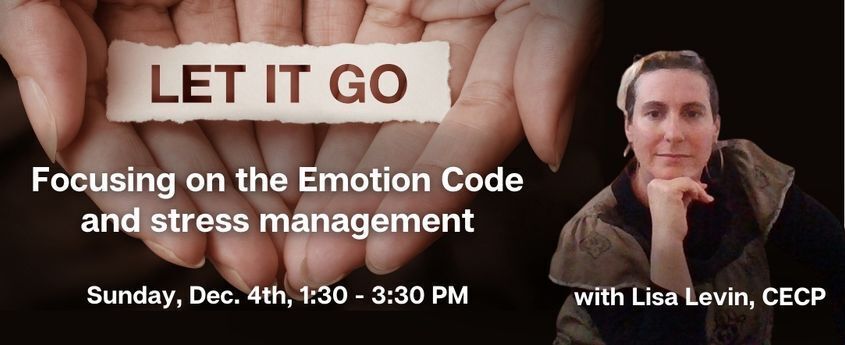 Free childcare at the Jewish Federation will be available!
On December 4th, Lisa Levin, CECP, will be presenting an informational seminar describing and giving a demonstration of the Emotion Code, a form of healing that achieves its relief through the release of trapped negative emotional energy. Unlike the other forms of therapy that Lisa provides, the Emotion Code does not require the client to do or say anything and is not required to think about or talk about their past painful experiences in order to achieve full healing. This is not hypnosis nor is it like Reiki or other forms of energy healing or psychological therapy. You'll learn about what the Emotion Code is, how Lisa was introduced to it, and how she was won over. You will hear about some of the bizarre and amazing experiences she has had helping others release long held emotions that were impediments for most of their lives.
The second half of the seminar will be Lisa's presentation on stress management by doing nothing more than breathing. She'll provide interesting biological rationale for the techniques she suggests that we probably should have learned in elementary school but never did. You will learn how the brain and body function under stress. This is way more than "just take a few deep breaths. You'll be fine." This talk has been given for years by Lisa, and she's helped hundreds of people relieve their daily stress, anxiety, and even for some, stop panic attacks completely by practicing these techniques regularly. Please come to listen and take a load off… your shoulders.
As a Board Certified Licensed Clinical Social Worker, Lisa Levin works as a mental health and addictions therapist and has been doing so both in the United States and overseas for over two decades. She's currently employed by Oaklawn Psychiatric Center working with financially struggling and indigent populations, and the rest of the time, she runs two private practices including MYH Library, a traditional in-person/brick and mortar therapy practice & Begin to Wake Therapy, a telehealth/online practice. She's been trained in and certified in specialties that enhance her work with people struggling with trauma histories and/or substance abuse disorders. She's certified as an Addictions Specialist through the American Academy of Healthcare Providers in the Addictive Disorders and holds a certification from the Veterans Administration in Prolonged Exposure. EMDRIA trained Lisa to facilitate EMDR, and she is certified as an Emotion Code Practitioner by Dr. Bradley Nelson, to help clients release their problematic trapped negative emotional energy. Lisa's proudest accomplishments, however, are creating the two most fantastic humans on Earth, Evy and Brennan Levin.