FED Talk on Youngstown, Ohio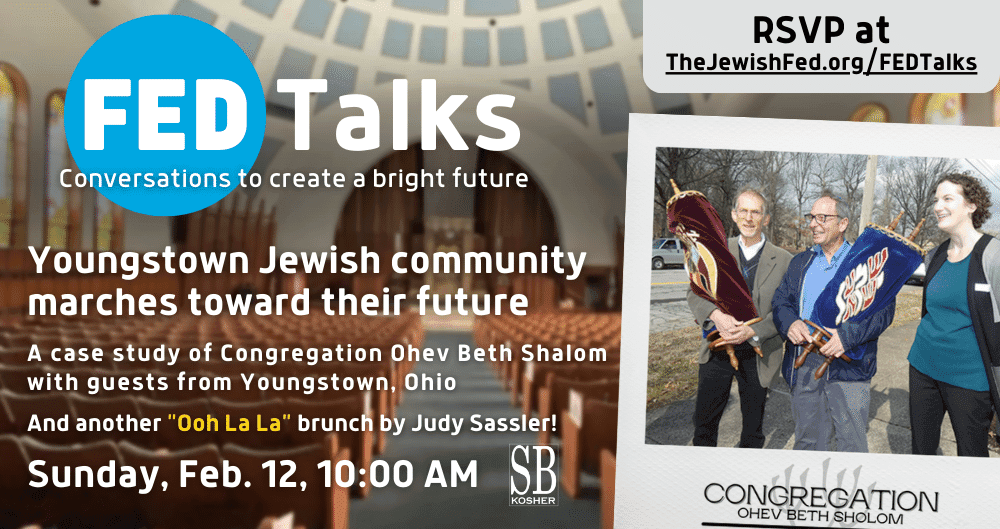 THIS EVENT IS BOTH ZOOM & IN-PERSON.
TOPIC: What can we learn from Youngstown, Ohio's Jewish community?
Following the Talk will be another "Ooh La La" brunch by our very own Judy Sassler (certified SB Kosher).
The focus of FED Talk #2 will be on the Jewish community of Youngstown, Ohio, particularly Congregation Ohev Beth Sholom, which recently consolidated 3 synagogues into 1 unified congregation - https://www.vindy.com/news/local-news/2022/03/consolidation-of-3-local-synagogues-creates-unity-strength/
Leaders representing both the Conservative and Reform faith traditions will Zoom in to share their vision for coming together, the process for arriving at this decision and the importance of widening the tent to build a joyous and sustainable Jewish future.
In an effort to direct this FED Talk towards the needs of our community, we welcome you to submit your questions, concerns, anxieties, or ideas in advance. We'll incorporate your thoughts into the flow of the conversation. There will also be time for Q&A during the talk.
Click here to submit your questions in advance - https://thejewishfed.org/how-to-help/fed-talks-questions.html