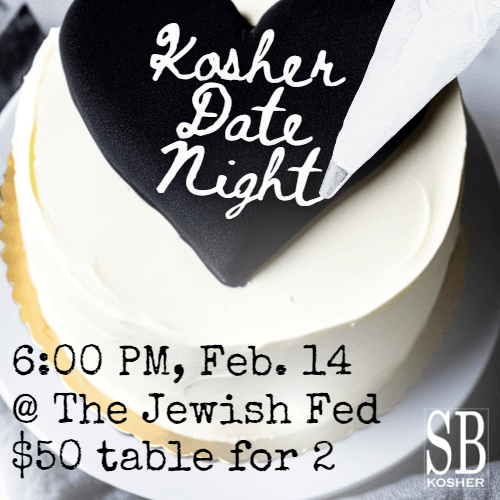 Bring a friend or significant other to Kosher Date Night
Tuesday, February 14, 6:00 PM
$50 for a table for 2
Complementary childcare available
This event is for anyone who needs a night out, served with a delicious kosher meal, dessert and drinks for you and a guest. Plus, request a table for 4 or 6, if you'd like to sit with friends.
Your choice of entrée: Mediterranean Salmon poached in peppers & tomato sauce OR Cheese Ravioli in creamy rose sauce
Your choice of appetizer: Cream of Mushroom Soup OR Salad
Dessert buffet featuring Strawberry Shortcake, Chocolate Cake and Bosque Cheesecake
Refreshments & adult beverages included
Please let us know by February 12 if you're planning to attend.