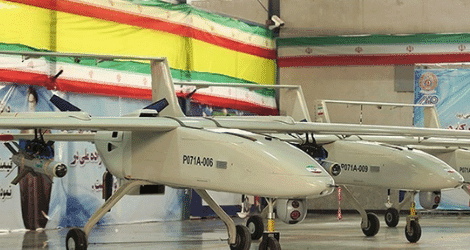 During Operation Breaking Dawn in August, we saw Palestinian Islamic Jihad (PIJ) - an Iranian proxy force based in Gaza- launch nearly 1,000 rockets at Israeli civilians. In May 2021, we saw Hamas and PIJ launch more than 4,300 rockets at Israel during Operation Guardian of the Walls. To add to the multiple security challenges facing Israel, there is a new and growing threat from Iran and its regional proxies: Unmanned Aerial Vehicles (UAV's).
In an eye-opening documentary shown in May on Israel's Channel 11 (Kan 11), we learned new information about the growing threat from Iran's UAV program and how Israel is responding to this danger.
The first instance of an Iranian attempt to use a UAV against Israel took place in February 2018. A Shahed 141 was launched from an Iranian base in Syria loaded with explosives they wanted to transfer to terrorist organizations in the West Bank. Fortunately, the UAV was identified by Israeli radar and intercepted and shot down by an Israeli Apache helicopter.
This was just the first of several Iranian sponsored UAV missions against Israel. Iran's loyal proxy Hezbollah has flown small UAV's over Israel for reconnaissance missions. There has also been a deadly UAV attack.
In July 2021, Iran used a Shahed 136 UAV to fly 2000 kilometers to attack Israeli-owned ship, the Mercer Street, in the Gulf of Oman. The attack killed two crew members.
It does not take a leap of the imagination to envision a nightmare scenario where Iran and its proxy forces- Hamas, Palestinian Islamic Jihad and Hezbollah- would try to overwhelm Israel's vaunted air defense system. They would use massive rocket fire combined with precision-guided missiles and UAV's launched from Iran or from its bases in Syria. The attack would target Israeli civilians with indiscriminate rocket fire and precision attacks against Israel's critical infrastructure: electrical power plants, desalination plants, Ben-Gurion Airport, and the seaports of Ashdod and Haifa.
Yet, Iran's UAV program is not just a danger for Israel.
The wake-up call for the potential threat of Iran's growing UAV capabilities to the wider Middle East came on September 14th, 2019 with the attack on the Aramco oil facility in Saudi Arabia. This was a sophisticated Iranian operation using UAV's and cruise missiles. The attack on Saudi Arabia's most important oil field and processing center caused extensive damage.
The attack was also a wake-up call for the Arab world to the real nature of the Iranian threat. It's no coincidence that one year later, in September 2020, the historic Abraham Accords were signed creating normalization agreements between Israel, Bahrain and the U.A.E.
Beyond the opening of economic ties and tourism, the Abraham Accords also opened the door for military cooperation against the common threats from Iran. There is now strategic collaboration between Israel and its Arab partners in the Persian Gulf that serves as an early warning system to the launch of UAV's from Iran.
Veteran Israeli Journalist Ronen Bergman wrote in the New York Times, "… the new initiative, the Middle East Air Defense project, is an attempt to shore up the region's defenses against drones. The idea is to allow its participants to alert one another instantly about incoming drone attacks, through the coordination of the U.S. Central Command."
The strategic cooperation between the U.S., Israel and the countries of the Abraham Accords has already paid off.
According to the Channel 11 documentary, in March 2021 Iran launched two UAV's from its territory toward Israel. Thanks to this early warning system, Israel was able to launch F-35 fighter planes to intercept and destroy the UAV's. What is surprising to note is that the Israeli planes intercepted the UAV's well outside of the borders of Israel.
And last February, Iran again launched two UAV's toward Israel. Yet this time it was actually U.S. Air Force fighter planes that intercepted the UAV's and shot them down over Iraq.
Israel has not remained passive in the face of these attacks. According to a report in the Israeli media, in a special operation in February Israel used its own UAV's to attack and destroy hundreds of UAV's in a major production facility inside the Iran.
Given the growing UAV threat, and with the challenge of Iran's nuclear program looming in the background, it is important for Americans to understand the totality of the threats posed by Iran to Israel and its Arab neighbors. If we fail to do so, then peace and prosperity for the people of the Middle East will continue to remain a distant dream.
Bob Feferman
Community Relations Director
574-233-1164 x1815
[email protected]