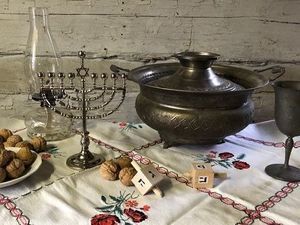 A Frontier Hanukkah Celebration is running at the Berrien County Historical Association's History Center at the Courthouse Square in Berrien Springs, Mich., through Dec. 24.
Location:
313 N Cass St
Berrien Springs, MI 49103
The special exhibit inside the historic Murdoch Cabin explores the story of Hanukkah and Jewish settlers in Michigan. Guests can play the dreidel game with chocolate coins or candy. Instructions are available and the candy is free to enjoy by players and observers.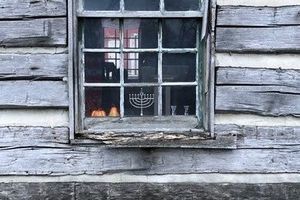 The Frontier Hanukkah Celebration was created by John Moga, the Historical Association's curator, and his wife, Deet Newman, who is one of Temple B'nai Shalom's Sunday school teachers. 
The History Center is at 313 N. Cass St. (M-139), a short distance north of downtown Berrien Springs. Hours are 10 a.m.-5 p.m. Wednesdays through Sundays. Admission is free, although donations are encouraged.
The Murdoch Cabin dates to 1830 and was moved to Courthouse Square in 1973,
Another current exhibit is Chalkdusk: School Life in Berrien County. The association's website is BerrienHistory.org.
Photos by John Moga
Sign up for our Newsletter