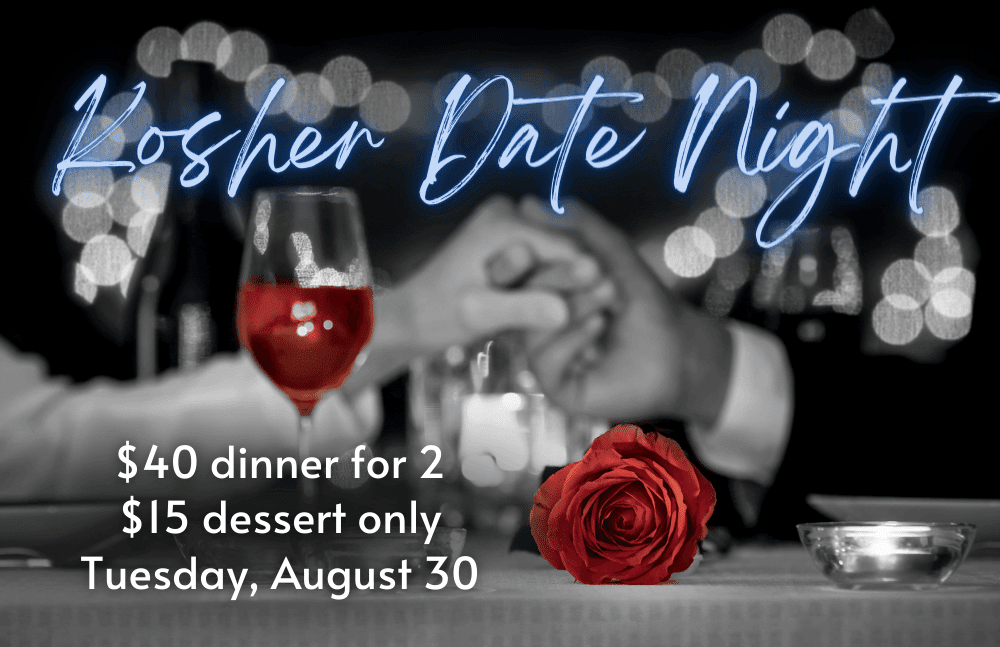 Need a date night? We'll provide kosher dinner, wine and dessert, games and free babysitting!
Join us at the Jewish Federation on Tuesday, August 30 for a romantic night for you and your loved one, from 6:30 to 9 pm.
A fancy 3 course Kosher meal, mostly Parve (DE), to allow those who keep Chalav Yisrael to attend.
Register by Sunday, August 28 to reserve your table!
Entrée options include:
Cacio e Pepe - spaghetti noodles in a light vegan butter, chive and mild peppercorn sauce, topped with seasoned breadcrumbs and vegan parm, served with garlic toast points
or, Baked Salmon with lemon and shallots, dilled peas and sour cream mash
Ticket price: $40 (includes 2 drink tickets per person)
Dessert and mingle $15 (starting at 8PM)
Prefer a table for 4? Request to be seated with another couple when you register!
6:30 – 7:00 Mingling time – drinks are self-serve
7:00 – 8:00 Date time – Three course meal
8:00 – 9:00 Couple games
Babysitting services provided (if needing care for children under 5, please contact Shirlee Greenwald with the contact information below).