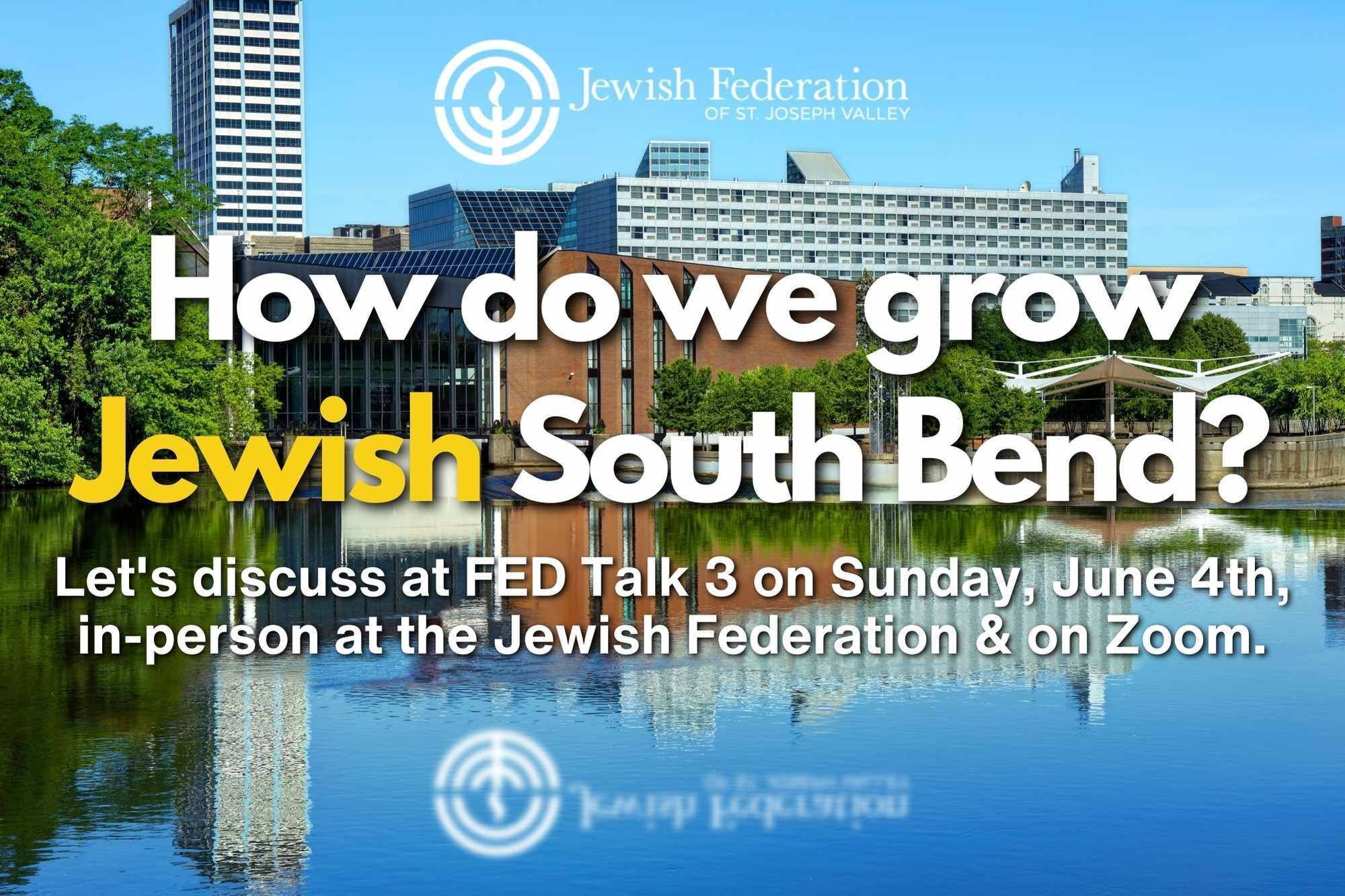 Join us for FED Talk 3 - A NEW VISION FOR ENDURING VALUES
Come prepared to share your thoughts and ideas to create the infrastructure and ecosystem for a thriving Jewish community.
With Andrew Wiand, Executive Director of enFocus & Lawrence Greenspun of Xponential Impact.
Sunday, June 4th, 10:30 AM with an "Ooh La La" brunch to follow (SBK)
$12 per person - registration by June 1st strongly encouraged
How are communities built? What from our own past can we apply to inform the future of the Jewish community of South Bend, what can we learn from other Jewish communities—past and present, and what can we learn from others who have sought to renew and even create entirely new communities, including the physical, social, cultural, and economic infrastructure to support them?
With this in mind, we're pleased to welcome Andrew Wiand, Executive Director of enFocus, a South Bend based nonprofit that seeks to attract talent to South Bend, retain talent in South Bend, and power that talent to build better communities. Andrew, a South Bend native and Notre Dame graduate, helped to found enFocus in 2012, when he and several classmates from his graduating class in Notre Dame's ESTEEM Masters in Entrepreneurship program decided that their entrepreneurial venture would be to establish and grow an innovation and entrepreneurship-focused community and ecosystem here in South Bend.
Over the past decade plus that Andrew has been its executive director, enFocus has helped to recruit hundreds of enFocus fellows and interns to South Bend, many of whom have had a profound impact on the region and made St. Joseph Valley their home. Andrew will share his insights and expertise on how to build a vibrant, sustainable, growing, and invigorating community here in South Bend, as we look to do the same for the Jewish community of South Bend.
Andrew will be joined in conversation by Lawrence Greenspun, the founder of Xponential Impact, a South Bend based consultancy focused on expanding prosperity—that is, helping individuals, organizations, and communities thrive. In addition to a long career in society-focused consulting, Lawrence has spent more than 30 years as a classroom teacher, with stints as a first-grade public school teacher, an adjunct faculty member at Notre Dame, and the principal of a supplemental Hebrew high school and junior college. Lawrence earned a B.A. in Religious Studies with a specialization in Judaism from the University of Pennsylvania. He has lived in South Bend since 2010.