The State of Antisemitism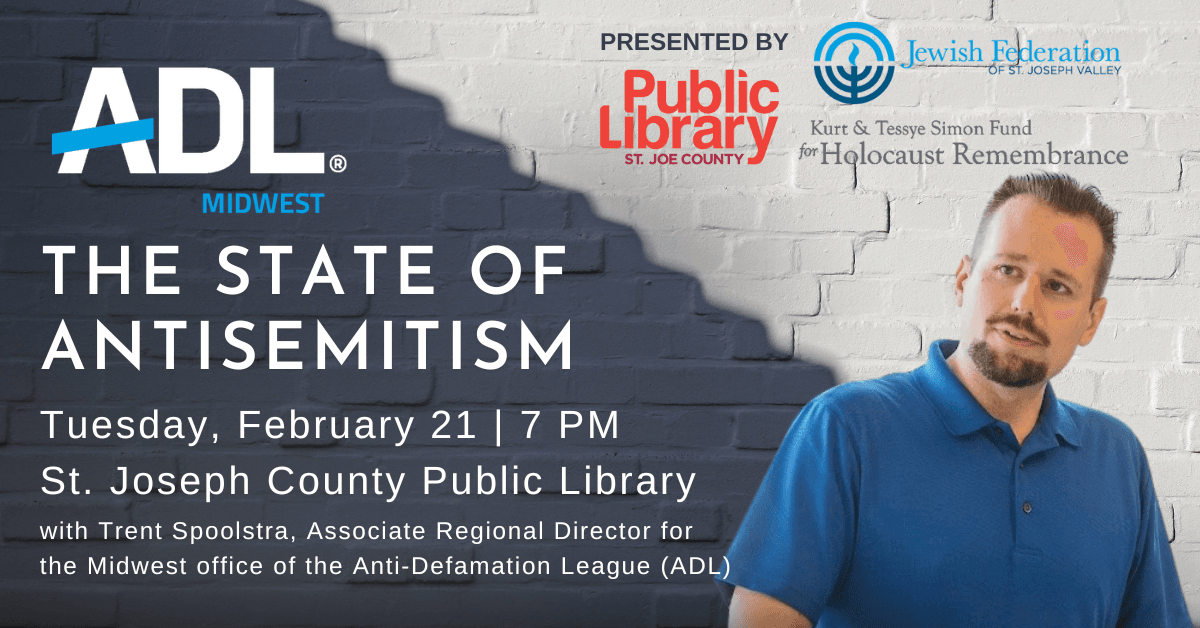 Recent antisemitic events involving well-known celebrities have drawn widespread attention to a disturbing trend in American society: the resurgence of antisemitism. According to the ADL (the Anti-Defamation League), "Antisemitic incidents reached an all-time high in the United States in 2021… This represents the highest number of incidents on record since ADL began tracking antisemitic incidents in 1979…"
In order to raise awareness of the problem, on Tuesday evening, February 21st at 7:00 PM, we will be co-sponsoring an important presentation at the St. Joseph County Public Library featuring Trent Spoolstra, Associate Regional Director for the Midwest office of the Anti-Defamation League (ADL). The title of his talk: The State of Antisemitism.
The event is co-sponsored by the ADL, the Jewish Federation of St. Joseph Valley, the Kurt and Tessye Simon Fund for Holocaust Remembrance and the St. Joseph County Public Library.
Trent's presentation will cover recent data from the Anti-Defamation League showing a dramatic rise of antisemitism that has been taking place across America for the last several years. He will also discuss survey data of American attitudes towards Jews, international sentiment of Jews, ADL's latest audit that tracks cases of harassment, vandalism, and assault against Jews, and what the community can go to help counter the rise of hate. A Q&A session will take place after the presentation.
In his position as Associate Regional Director for the Midwest office of the Anti-Defamation League, Trent is in charge of young leadership development and Jewish community relations. He leads the region's young leadership class called Glass Leadership Institute, assists with the ADL Associate Board, sets up adolescent training sessions to counter antisemitism, and runs the region's Signature Synagogue Program.
Trent is no stranger to South Bend. While living here he attended Sinai Synagogue, and he graduated from Notre Dame with a bachelor's degree in political science. Before coming to ADL, Trent also earned a master's degree in international affairs from the Bush School of Government & Public Service-Texas A&M.
The event is open to the general public. If you have questions about the event, please contact Dan Ravitch, Federation Program Director at dravitch@thejewishfed.org, or Bob Feferman, Community Relations Director at Rfeferman@thejewishfed.org.